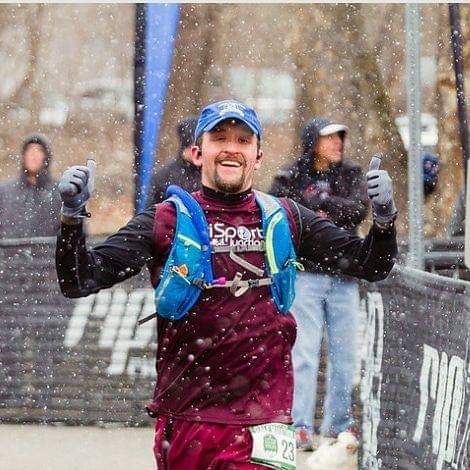 Maryland Trek 7 Day 4 For Francis
Teammate: Francis
Date: Wednesday August 12 2020
Route: Frederick through Sykesville through Ellicott City to near BWI Baltimore
Weather: Baltimore Weather from justinweather.com
Francis joined The Trek on Year 3 thanks to the group outreach from Tri Sport Junction in Sykesville. He has been a part every year since. He has met the team at all point across the state to hike, bike, bring us food, and even do our laundry. Her has been there for us, and now we will be there for him. Here is his story:
Francis and his family moved from West Virginia to this Maryland when he was 5 years old. He is an
avid hunter and when he was 29 he was running to his deer stand and he realized he was out
of breath and shape. This realization led him to running and that is how we became friends
with Francis.

Francis would run about 5 days a week. He has run with just about everyone in the Eldersburg
Rogue Runners club and from Tri Sport Junction. Francis enjoys running with friends or alone
and has tackled many marathons and ultra-distances, he enjoys the challenge of pushing
himself to places he never imagined he could go.

Francis has raised thousands of dollars for charities by running hundreds of miles. His Favorite
being the Akron Marathon where proceeds are donated to the Akron Children's Hospital. He
has a cousin that had a daughter born 9 weeks early and she stayed at the Akron children's
Hospital, so this race holds a place in his heart. He has done this race 4 times, 1 half
marathon and 3 marathons.

Running is not his only talent. Franny has also biked many miles to raise money for charities.
Francis is always the first to sign up to be a part of any team. He has been an active part of
the Maryland Trek for the past 4 years., trekking and riding across Maryland to raise money for
children .

He is always there if you need him whether it be to run in your race or help support your
race. He has helped others train so they can reach their goals and he celebrates with them
when they achieve their goals.

In April, our strong friend started having headaches that were quite persistent. He was able to
manage them during this pandemic until they became unbearable and he was taken to the ER
where head x-rays showed he needed to be in a more sophisticated hospital to deal with
what was happening to him.

The next month was full of tests and a diagnosis of a Glioblastoma along with satellite lesions.
Of course, since we were in high state shut down, he was not allowed visitors for the month
that he was in the hospital. He has remained calm in this storm as his family and friends try
to help and support him from the other side.

Franny is home now. He is working extremely hard to get his strength and mobility back. He is
going through a chemo and radiation treatment to shrink the tumors. Franny is in for the Ultra
Race of his life and we are here as his support crew.

Francis has a set goal to run the Virtual Marine Corp Marathon in November. He will have a huge support crew for this event.