Day 5 MDTrek6 For Jack
Jack
Age 4
Diffuse Intrinsic Pontine Glioma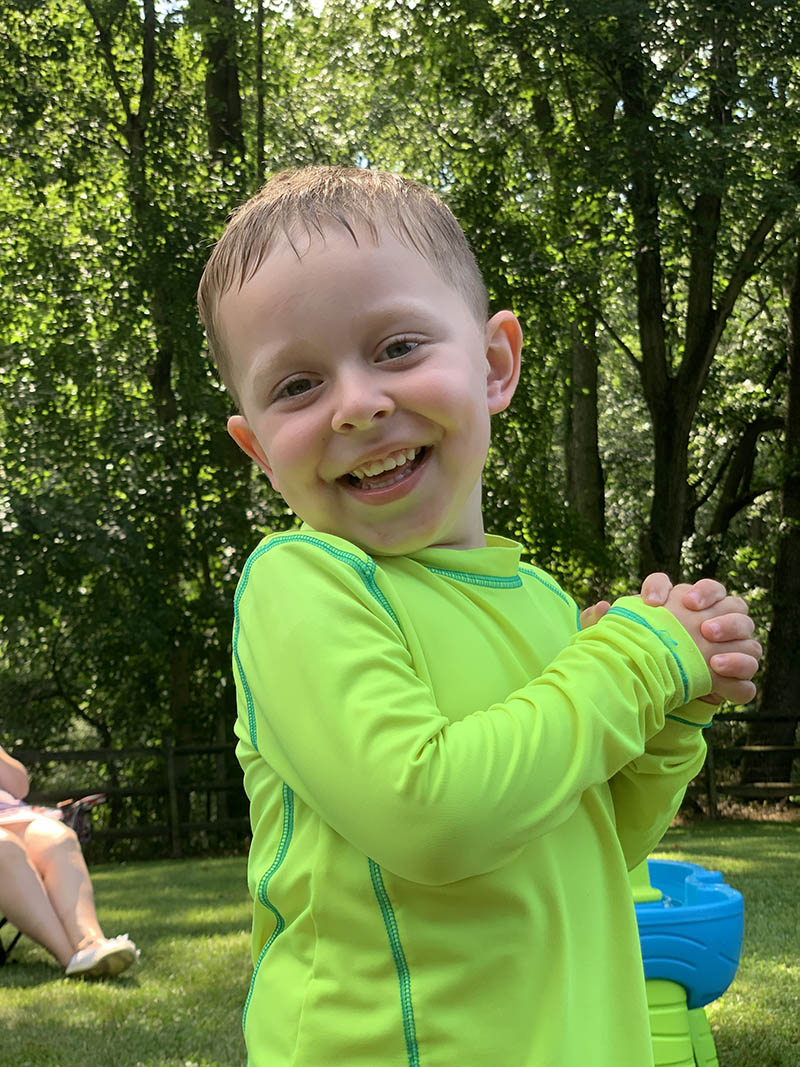 On Monday, October 29, 2018, in an emergency visit to Johns Hopkins Hospital, it was discovered that Captain Jack ( at the time 3 years old) had brain cancer. Diffuse intrinsic pontine glioma (DIPG) is a highly aggressive and difficult to treat brain tumor found at the base of the brain. This is the area that contains all the incoming neurons within the spinal cord, controls breathing, heart rate, and other vital bodily functions. Because of the widespread growth and the depth and location of the tumor it is inoperable, incurable, and fatal. Although heartbroken, the family was committed to taking on this sinister disease with everything they had. That is exactly what they have done. After a grim prognosis of 6-18 months the family dug into finding the best approach and researching every possible avenue for treatment.
Jack then underwent surgery to implant a shunt to help drain cerebrospinal fluid and redirect it to another location in the body where it can be reabsorbed. This was to decrease the pressure in his brain. The also implanted a mediport to administer meds into a vein in his chest instead of constantly having to be stuck for an IV for medications.
He quickly began radiation treatments, 30 treatments given over 6 weeks while the family explored clinical trials that could address this aggressive cancer and ended up in a clinical trial in NYC. The clinical trial, ONC201, was one that kept Jack and his mom in New York for many months, all while his mom was pregnant with his baby sister. In January their big, loving family welcomed a new baby girl and life has continued on with juggling all that comes with having a new baby and throwing on top of it treatments, trips, and scans.
During the clinical trial the tumor began to shrink and ultimately stabilize and continues to stay that way although every few months a new scan has to be performed and the anxiety of what the results may be are like a looming cloud.
Justin and I met his family at a function and one look into his face and I fell in love. His eyes were full of sparkle and his smile was hesitant but huge. Their entire family came out and it was obvious that Jack was surrounded by the most loving nurturing group of humans. I got to snuggle with the baby sister and Jack actually let me carry him to the car. Needless to say, he was my new best friend. Jack is certainly one special little boy. My favorite quote from the family about Jack was….. "The essence of Jack's Journey is to beat something that many have tried and no one has yet done. We will support him on his journey and he will reach the summit of that mountain! It isn't going to be an easy journey, but no trip worth taking ever is."
From his mom-
You can just call him Jack-- my family used to call him "Captain Jack" when he was a baby (after the Pirates of the Caribbean movie, Captain Jack Sparrow :) but the nickname never really stuck and was only revived for the blog.
I know I'm a little biased, but he really is a special kid and he makes our world brighter everyday. He's smart - very smart - and picks up on a lot for being 4 years old. He has 3 wonderful older siblings, Jacob (23), Matthew (20) and Rebecca (14), and Jack is the best big brother to sisters Ella (3 years old) and Emily (6 months old). He's been incredibly brave through all of his treatments and has never once questioned our direction over the course of the past 9 months since his diagnosis. He has the best laugh and his smile has carried us all through the darkness of these past several months.
He is obsessed with Legos and I'm fairly certain we're nearing bankruptcy with how many Legos we've purchased for this kid over the past few months :) (Kidding, of course.) He calls himself a "master builder" - and at 4 years old, can do 300-400 pc. lego sets in a matter of a day or two. It's actually very impressive.
He is also your local dinosaur expert, although this "phase" (which lasted for almost a year) has nearly passed I think. He's watched all but the last of the Jurassic Park movies -- the last one was too scary -- and can rattle off dinosaur names in his sleep. (Ever heard a 4-year-old say "Pachycephalosaurus"? It's cute.)
When he's not building Legos, you can find him playing Lego video games or riding his shiny, red tricycle up and down our street. He's also learning how to swim this summer. He's proving to be a fish in the pool and we are proud of the progress he is making.
In the Fall, if he's still doing well, he'll resume his preschool at the local RECC program at Bellows Spring Elementary School. Follow him on FB at Captain Jack's Journey.