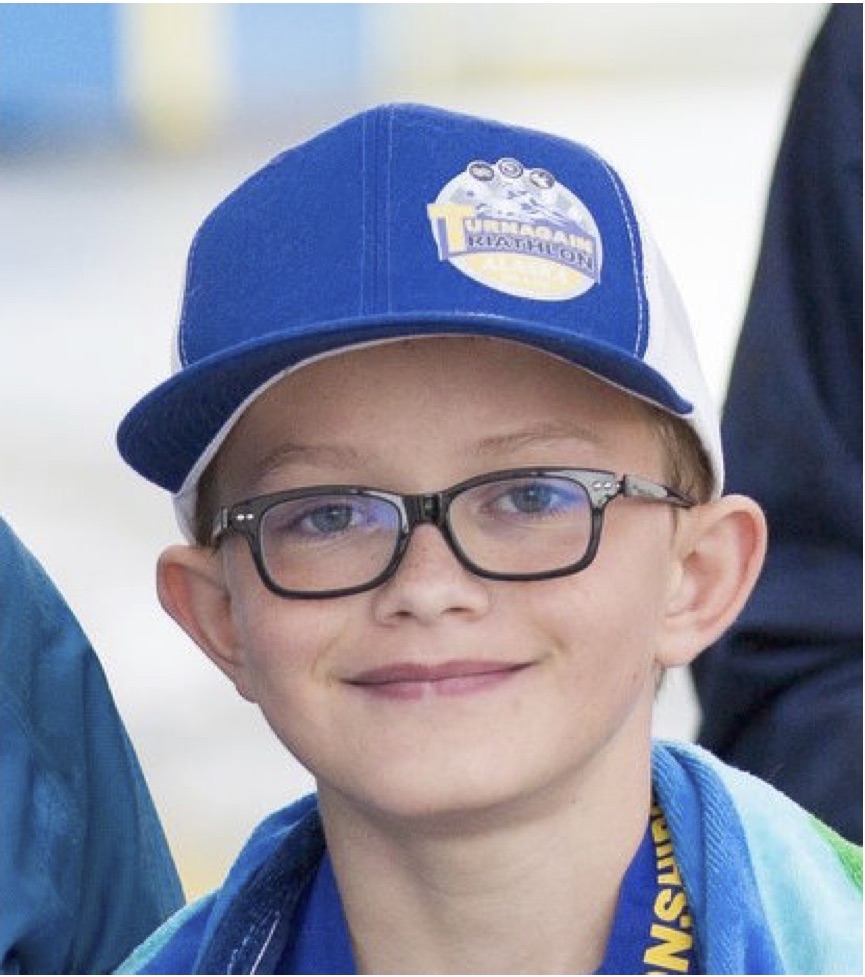 Day 4 MDTrek6 For Nic
Nic
Age 12
Ewings Sarcoma
Nic, an Alaskan born 12 year old, was diagnosed with Ewings Sarcoma three days before the end of his 6th grade year. Nic had been experiencing hip and leg pain, which had been attributed to possible sciatic nerve or growing pains. Despite the pain, he continued to train for triathlons with his Government Hill Elementary Running Club, often pushing through it even though he was uncomfortable. Three weeks prior to the eventual diagnosis, he even ran a 10k which was his longest distance to date. He was receiving PT treatment and the physical therapist eventually referred us back to his primary as she did not feel progress was being made and pain in children that does not improve always has to be taken seriously. Nic has a pain tolerance that is substantial so to have continued pain in the face of interventions meant something was definitely amiss.
After an MRI was ordered, a tennis ball size mass was found in his pelvis and sacrum. The medical team in Anchorage referred us to an outside facility due to the multi-doctor and need of specialists for this particular cancer. Having family in the Baltimore area, we chose to go to Johns Hopkins while seeking treatment and stay with family (grandparents) in Howard County, MD. Nic was admitted to the hospital within a week of the initial MRI scan. His protocol is a minimum of 14, 2 week chemotherapy cycles along with radiation. During treatment, Nic can not travel away from Baltimore. Although he is not stuck in the hospital for treatment he does have to stay close for his treatments and scans to monitor his progress. This will mean his mom will be on leave from a teaching position and his dad and 16 year old brother, Jack , will be staying in Anchorage. The family is having to split temporarily to give Nic the best possible care here in Maryland, but that is but indicative of the types of sacrifices families like these make daily.
Nic is really a generally happy boy who has normal pre-teen interests. He is witty and sarcastic at times. One of his favorite musicals is Hamilton. He enjoys training for triathlons – he is not the fastest by any means, but always finishes. He enjoys spending time with his friends. As with many boys his age, the xbox is a favorite pastime and a blessing since he can play with his friends back in Anchorage while he is 3,500 miles away in Maryland. He may give you the impression that he is shy but he will certainly have something to say when he needs to and when the time is right, including spilling some crazy facts about weather!
The family is taking advantage of the good days to spend time with local family & friends and playing lots of games. The not-so-good days, we lay low and embrace naps. Nic's positive attitude and matter-a-fact nature towards this diagnosis and situation is as good as it can be. Even though he misses his friends and the restrictions placed on him, he tries his best to find the silver lining in every cloud.