My Story: Why I Trek Across Maryland
When I was 14 years old, I almost lost one of my legs. I was playing baseball, running track, growing up… and my adolescence came to screaming halt. After a few weeks of pain after track practice, my parents finally took me to the doctor, which led to a diagnoses of bone cancer in my left tibia. A board of orthopedic surgeons reviewed my case and suggested aggressive action. Bless my parents for searching for any other diagnosis than radiation, chemo, and possible amputation. We found one, but it was just as grim. A staph infection in my bone. How it got there is a mystery, but had that reached my bone marrow, then lights out Justin. So I was put in the hospital the next day and had a quarter size hole of my upper tibia scoped out and grafted.
A week later, I was still in the hospital and just silly kid trying to walk. It was too soon and caused swelling plus a fever spike. One of my original doctors was doing his rounds that day and checked on me. He suggested that his original diagnoses was correct and that I did have cancer all along. The delay increased the odds of losing my leg. Hearing that alone, without my parents around… kind of scary! But my surgeon WAS correct. I got my first lesson how professionals could be wrong at their jobs sometimes. Sound familiar weatherman haters?
However, the very next day, I developed an allergy to penicillin from my IV treatment. If you've ever had a full body rash. then you know there is nothing good about it. Ugh! So I was put on a relatively new drug called Keflex (for the medical pros reading). I was told if it was just a few years earlier, this drug was not around, and yes, I would have lost my leg after all. Strike 2! But I was not out yet…
A month and a half in the hospital, more time at home on IV, I lost part of my summer and was isolated. There was no social media and only a few channels on the hospital TV. I would never want any kids to feel that alone in their journey.
Come From Behind Track Victory
I eventually recovered, and a few years later was where I expected to be. This video of my the finals at a winter track meet is the only one my parents ever recorded. Thank you!
This was the moment captured in time that changed everything. It was the finals of the 4×200M relay at the southeast NY regional invitational. I was the anchor leg getting the baton 10-15 yards behind the leader. But I had tunnel vision. For the first time I felt 100% healthy, and I was able to come from behind and beat him at the finish line. Victory, as good as it feels, is even better after overcoming obstacles. The feeling I still have from this experience, is what I want EVERY KID we work with to have.
The numbers
I was 14 years old then,I was 41 when I did the first trek across Maryland. It is a reflection of digits and time for my own reflection. Considering it was 20'14' and I was on TV in Baltimore for 14 years, it just fit. Plus it had been 27 years since this happened. 2 x 7 = 14.

There are more. Please see By The Numbers and I'd love to know what you think
The opportunity
I have been given a blessing in social media. I left TV in 2012 years ago, but I reach more people today than ever. What good is having over 249,000 followers on Facebook, 44,000+ on Twitter, almost 20K on Instagram, and reach over one million a week if you don't do any good with it? That is what I want to prove. Justify the large community for a purpose outside of myself.

For some reason I have been able to transcend cyberspace and connect with a lot of people. It has to be more than great photos, timely weather updates, a blockbuster winter storm grade report, or whatever. Some piece of me has reached others on many levels. Will sharing a bit more while doing something outside of myself be the validation of all of this? Before I embark on anything else in my business and life, I need to see that.
The Trek
7 Days, 329 Miles From the Mountains to the Ocean

Starting from the summit of Wisp and ending at the Inlet in Ocean City. I picked Maryland's two largest playgrounds for the kids who want to be kids again and just play.

Follow or join my team: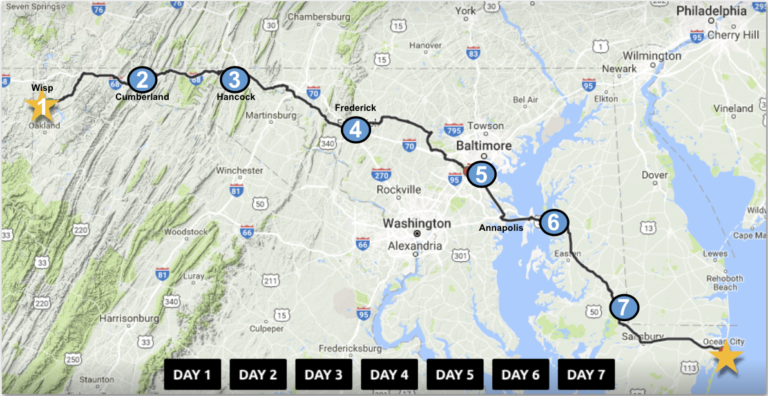 While my largest community is on Facebook, there are other social media formats that allow for more frequent updates that will not get lost or out of order in news feeds.

If you see us and take a photo, or just want to send a message, consider this way to share:

Photos on Instagram:
Tag and follow @justinweather

Twitter:
We will have frequent updates from @JustinWeather

It is a hiking and biking combination everyday, to cross the state of Maryland from west to east in 7 days. Two legs each day, pun fully intended. That's the plan. I've moved from sprinting to long distance running in my adulthood, but the hike is something more people can relate to. For the haters and trolls who wanted me to take a hike, OK. I am! Again!

The biking portion represents the fun part childhood, plus it relieves tension on my legs using different muscles and shortens the time of the entire event.
My Trek
329 miles hiking and biking in 7 days
Each day will start with a 27 mile hike at a fast pace. See the daily routes here. We average a little more than 4 miles per hour. Often 14 or 15 minuted per mile. I use trek poles to save my legs and back. They come in handy uphills, balance and deter sprained ankles when I get tired, and then I tuck them by my side like ski poles and jog downhills.
27 is for the years since I was sick (up to my first trek). It is also a little more than a marathon each day to honor my friend Kelly LaBare who got me into long distance events… But I got injured and didn't finish my marathon before she died.
The bike part will be about 14 miles, for the age I was when I was sick.
Each day will be to honor one of our Power Kids, telling you their story and let them know that many people care.
Perhaps 27+ years from now, they will be all grown up and tell their story about when they 'were' sick.
If you drive by or stop to say high, we can take a pic and post it using the hashtag.
Our Goal

To provide free integrated wellness programs for 100 kids in and post cancer treatment.

That is the foundation of Just In Power Kids

Optimistically I wish we could raise $10 for every person on my FB page, we'd have close to $2.5M.
The first year I set the mark at $14,000. That number again for my age when I was sick. I ended up raising close to $25,000 in the first year. Since then the team has grown A LOT. I consider everyone who joins me for a single day, multiple days, or the entire week to be part of my family. I've said the each year, and proved it.
On Maryland Trek 4 I met Shannon. The day after Maryland Trek 5, we got married at the finish in Ocean City and blended our three children and families together.
This year's goal: $65,000. A big goal, but I believe many in our community have big hearts and will see the big effort we are putting forth.

Help support the cause now but pledging here.


Personal Journey
I feel I need to do this! Perhaps it is my mid life crisis, but I can imagine worse things. I am far from perfect, but have gained perspective to grab all flaws and obstacles, combine them with all that is good surrounding me, and do something positive. I hope my actions will resonate with you, inspire you, and encourage the kids to look past their disease to a time when they can attain their dreams.
I am also doing this for my two boys. Thankfully they are both very healthy and I could not imagine one of them being ill. I want them to see their dad continue to complete something physically grueling in an event that continues to grow. I want them to push past their fears and beyond what they think may be their limits. It's my own personal American Ninja Warrior.
It is also for my parents. They've seen my best and worst (which wasn't pretty) and still believe in me. This entire week is cosmic judo. Redirecting all obstacles and forces to something so good and beyond myself that is has to succeed.
I hope you join me along the way. I am so glad to have this opportunity of a large audience and physical fitness. I will need all support along the way, after the adrenaline fades and I proceed on fumes.
Please share your thoughts, best weather pics/video, or just keep in touch via social media
Keep In Touch Every Day
Click here to sign up for email alerts…. Just in case you don't get the post on your social media feed
Shine On
Proceeds from all sales go to Just In Power Kids. Click the image to shop and show your support.
Partner With Us. My Fiancee Shannon and I started this non profit Just In Power Kids. We are building a network of Integrated Wellness Practitioners plus funds for kids in and post cancer treatment to get free sessions.