Maryland Trek 9 Day 2 is for Sophia
Day 2 of Maryland Trek 9
Date: Monday August 1 2022
Power Kid: Sophia
Alveolar Rhabdomyosarcoma
Route: Cumberland to Hancock
Total Miles = 42: 27 on foot, 15 on bike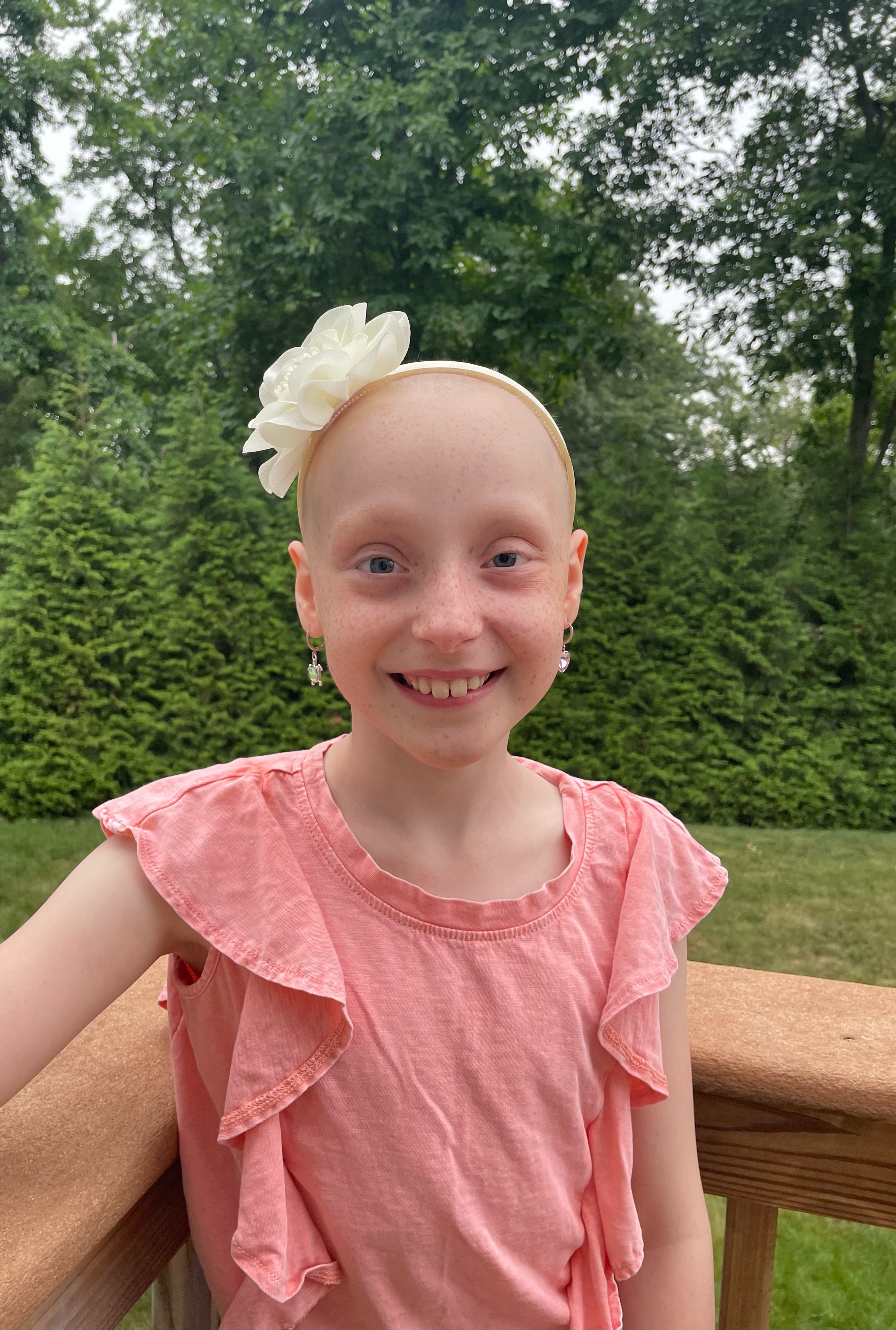 Sophia is an incredibly kind and caring 9 year old girl; she has always cared about everyone else's feelings and genuinely wants to do nice things for other people. She's also a very talented artist, and some of her other favorite activities include cheerleading, gymnastics, she has started getting softball, and most of all she loves spending time with her family.
In April 2021 after a fun filled weekend, her parents noticed that Sophia's left eye was protruding and her pupils were unequal. They didn't yet know the gravity of the situation, but knew something was wrong so they went to the ER and ended up being admitted to the hospital. Scans showed a mass in her sinus which is a rare location for a tumor. Further testing confirmed that she had a rare and aggressive type of cancer called Alveolar Rhabdomyosarcoma. Within a few weeks of diagnosis, Sophia started treatment: 1 year of chemo, hospital stays every 3 weeks, 6 weeks of proton radiation, and no in-person school (this part really upset her).
See her story and watch her read the list of ALL OF HER TREATMENTS.
The beginning of treatment was a difficult time for the whole family; her parents had to immediately begin juggling appointments, learning a seemingly endless lists of medications, and trying to figure out how they can help Sophia through this incredibly difficult time. The average chemo cycle included planned hospital admissions, being sick every 3rd week, and unplanned neutropenic admissions. This is a difficult thing for anyone to adjust too, let alone a child but Sophia still kept her head high. She kept her sweet demeanor and prayed every day that her cancer would be gone.
After 3 months, the family learned that Sophia's tumor was not responding to the chemo. This meant Sophia needed to switch to more aggressive treatment, which included even higher doses of the same chemo that was already making her incredibly sick. At the same time, she started proton radiation which was a daily 20 minute treatment which resulted in burn similar to sunburn all over her face and inside of her mouth that would take a few months to heal and caused her a lot of pain.
During the next 10 months Sophia had over 100 appointments, 113 chemo infusions, and 79 days in the hospital; many of which were unplanned. Of course Sophia had bad days and even bad weeks, but for the most part she was still the same kind and loving Sophia.
Before each oncology appointment she would be sure to pack "blessing bags" to give to the homeless that were filled with snacks and a handwritten note. During her hospital stays she did everything from decorating other kid's hospital room doors to making nurse-themed fortune tellers for the nurse's station. One time during a hospital stay Sophia met a little girl that was just diagnosed with cancer and Sophia knew that the parents were going through an extremely difficult time, so she wrote them a letter explaining that she used to be scared, but has learned that it's not that scary and offered to help the little girl through this difficult time. Even during aggressive treatments, she felt it was important to help and be kind to others.
From Justin
When I met Sophia I knew I was in the presence of a special soul. She is a young girl, who was initially shy. That is to be expected. But she was so poised while we recorded our interview and just seeing eye to eye I know she is destined for greatness. She already has gone through a rigorous treatment to be deemed NED (no evidence of disease). But the addition of her blessing bags is truly virtuous.
She was also caring of other children, one of which is Madi - another of of our Power Kids this summer.
To see that kind of maternal instinct in a kid just wanted to get into 4th grade speaks to her nature, but also the home her parents Courtney and John have provided.