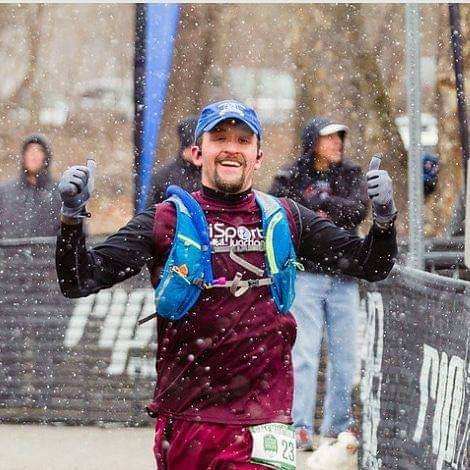 Maryland Trek 8 Day 7 For Our Fallen Teammate Francis
Date: Saturday August 14 2021
Fallen Teammate Francis
Gleoblastoma
Route: Sharptown to Ocean City
Weather Update
Crazy Strong
How do I explain one of the craziest, weirdest, most generous people we've ever met?
Francis joined The Trek on Year 3 thanks to the group outreach from Tri Sport Junction in Sykesville. I met him before starting our final day, and we did not have a cycling jersey his size. We only had a small. He was NOT a small, but wore it graciously. To honor him, I will attempt to squeeze into a small jersey to experience what he endured with a smile.
Francis had been a part every year of the Maryland Trek since. He has met the team at all points across the state.
I remember one year he had to working in the morning we started Day 1. But when he finished he drove to Cumberland, then rode his bike uphill along an 8 mile incline, then beyond Frostburg to meet our team, only to come back the other way.
He has shown up to hike, bike, bring us fresh fruit and home baked cookies.
He even arrived at Frederick to get our entire team's clothing. I can assure you it was damp and didn't smell well. He stayed up all night to do everyone's laundry, then brought it in the mornin before we begin our 55_ mile bike ride. The clothes were folded and sorted. WOW!!!
Francis has been on every day of our route, except Day 5. Shannon has a GIANT FAT HEAD of Francis to bring to meet Governor Hogan, then on our boat ride.
Other tributes honor him all week, and it is fitting we finish this year's journey walking into the ocean with Francis with us.
Francis and his family moved from West Virginia to Maryland when he was 5 years old.
He was an avid hunter and when he was 29 he was running to his deer stand and he realized he was out
of breath and shape. This realization led him to running and that is how we became friends with Francis.
Francis would run about 5 days a week. He has run with just about everyone in the Eldersburg Road Runners club and from Tri Sport Junction. Francis enjoys running with friends or alone and has tackled many marathons and ultra-distances, he enjoys the challenge of pushing
himself to places he never imagined he could go.
Francis had raised thousands of dollars for charities by running hundreds of miles. His Favorite being the Akron Marathon where proceeds are donated to the Akron Children's Hospital. He
has a cousin that had a daughter born 9 weeks early and she stayed at the Akron children's Hospital, so this race holds a place in his heart. He has done this race 4 times, 1 half marathon and 3 marathons.
Running is not his only talent. Franny has also biked many miles to raise money for charities.
Francis is always the first to sign up to be a part of any team.
He was always there if you need him whether it be to run in your race or help support your
race. He has helped others train so they can reach their goals and he celebrates with them
when they achieve their goals.
In April 2020, our strong friend started having headaches that were quite persistent. He was able to
manage them during the pandemic until they became unbearable and he was taken to the ER where head x-rays showed he needed to be in a more sophisticated hospital to deal with what was happening to him.
The next month was full of tests and a diagnosis of a Glioblastoma along with satellite lesions.
Of course, there were in high state shut down, he was not allowed visitors for the month that he was in the hospital. He has remained calm in this storm as his family and friends try to help and support him from the other side.
Francis had a set goal to run the Virtual Marine Corp Marathon in November, but on August 23, something special happened.
A group of people ran a sanctioned marathon around Carroll County. The finished at South Carroll High School with Francis being wheeled across the finish line. There a Marine awarded Francis with a finisher medal, and he was surrounded by a large group of family and friends.
It wasn't the race he intended, but it brought everyone together for the best intensions.
Franny passed away on November 8, 2020. It was a tremendous loss to our community, but hid spirit has made all of us that were his friends, better people.
Semper Fi
Sharing The Miles
Please take a moment to watch this…